Ireland's Dingle peninsula


An expression of praise for any feat in the Dingle Peninsula, the West Kerry Gaeltacht (Irish-speaking area) is Mo cheol thú - You are my music! - which is in itself an indication of the indigenous place music has in the life of the area. Both instrumental music and song have a long tradition on the Dingle Peninsula. In recent times, with the increasing international interest in Irish traditional music, the area has become a mecca for traditional music lovers to the extent that many roving musicians have come to settle in the area and have blended their talents with those of the local native musicians. For many years the music tradition of the area concentrated on the dance tunes played for the West Kerry Set Dance - mainly polkas, slides (single jigs) and, on occasion, hornpipes. The polka set, as it is commonly known, shares its music with the Sliabh Luachra area of North Kerry and with parts of Limerick where polka sets are the traditional dances.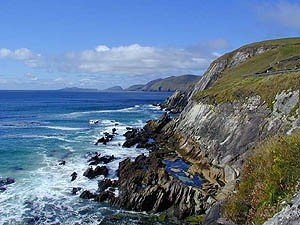 The polka was for many years considered to be "foreign" as both set-dancing and accompanying music were modified versions of music and dance performed by the occupying military forces, and this music was therefore generally ignored in the great collections of written music from Capt. Francis O'Neill (1906) to Breandán Breathnach (1963) in their publications. But the polka has become an integral part of the Irish tradition and is now recognised as such. While Breathnach collected polkas, none appeared in any of his three collections of Ceol Rince na hÉireann, but a fourth edition of this year (1997), posthumously edited by Jackie Small, contains 19 polkas and 23 slides, indicating Breathnach's personal acceptance of the polka set-dance as part of the tradition. However, Canon James Goodman (1826-1898) included polkas in his collection of local music which indicates their place in the musical tradition of the area. There are many "local" polkas and slides which have now become an integral part of the tradition, notably those which were played by Muiris Ó Dálaigh (1910-1990) of Dún Chaoin and a native of the Blasket Islands, among many others who have passed on, such as Seán Coughlan and Tomás Mac Gearailt. Many of these tunes now form part of a collection of polkas, slides and slow airs published by Feargal Mac Amhlaoibh and Con Durham in the now out-of-print An Pota Stóir (1994).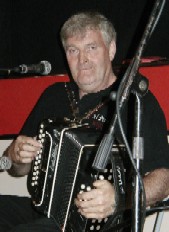 The Kerry Polka has now reached the international stage with the famous duo performances of Séamus Begley [see photo] and Steve Cooney. But there are many other local musicians carrying on this tradition in their native area, such as Maidhc Dainín Ó Sé, Breandán Begley, Tommy O'Connor, Micheál Herlihy, John Benny Moriarty, Áine Uí Laoithe, Maurice McKenna, Pádraig Ó Sé and Michelle Curran-Ó Sé. It will be noted from the above list that all these musicians are box-players (button accordion) and this has been generally regarded as the main musical instrument of the area since its introduction from Italy via America through returned Irish emigrant musicians in the early years of this century. Prior to then, the uilleann pipes, fiddle, and flute were the only instruments being used by local musicians, as evidenced in the writings and collected tunes of the Reverend James Goodman (1828-1896), himself a piper and flutist. While the fiddle continued in a secondary role to "the box", the uilleann pipes and flute all but disappeared from the area (with the notable exception of Feargus Ó Flaibheartaigh of the famous Dingle Flaherty Pub) until their re-introduction by newcomer musicians to the area such as pipers Con Durham, Cillian Ó Briain (who is also a pipe maker), Eoin Ó Duignáin, and Eimear Daly; fiddle players Inagh Davis, Feargal Mac Amhlaoibh and Aoife Ní Ghrainbhéil; and flutists Bríd Donnelly-Ó Briain, Eilís Ní Chinnéide, Cian Ó Súilleabháin, Muireann Nic Amhlaoibh, Maurice McKenna, Aoileann Mhic Gearailt, and Peadar Ó hUallaigh. With the influx of such musicians and improved communications, the variety of music played in the area now encompasses the more widely-played reels, jigs, barn dances and set pieces. Added to this, the guitar and bodhrán have become almost essential ingredients to uplift any session, in particular the guitar playing of Steve Cooney, John Brown, Jon Sanders and Tommy O'Sullivan [see photo] , and the bodhrán playing of Andrea Power or the percussion of Steve White.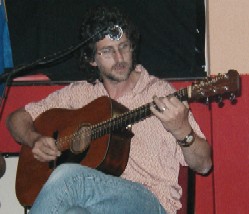 A new generation of musicians is presently blooming in the area, playing a variety of instruments including fiddle, flute, whistle, guitar, box, and concertina. The singing tradition of West Kerry is closely associated with the singing tradition of the Waterford Gaeltacht area of Na Déise, with many songs common to both areas such as An Clár Bog Déil, Iníon an Fhaoit ón nGleann, and Bruach na Carraige Báine. But there are many songs particular to West Kerry itself, such as Raghad-sa 's mo Cheataí, An Baile 'tá lámh le Siúd, and Dún an Óir. These songs all form part of the sean-nós tradition, which is distinct from other sean-nós styles of the western seaboard in that they can be, and are, performed as beautiful airs in their own right. These songs can be regularly heard in the area, sung by such singers as those from the famous Begley family, the aforementioned musicians Maidhc Dainín Ó Sé and Áine Leahy, Eibhlín Carney, Páidí Mhártan Mac Gearailt, Ben Lynch, Seán Ó Ceallacháin, Pádraig Ó Sé, and Eilís Ní Chinnéide. While sessions of music, song and dance will continue to be held in private houses and in various other venues throughout the area, the pub is the usual place where these events can be experienced by the visitor. These pub sessions would be at their height during the summer months. Due to the increased emphasis on tourism, paid gigs are the norm during this period and most pubs provide live music during the season on most evenings. During the off season, Dingle offers music on most evenings, notably at An Droichead Beag, Mac Cárthaigh's and Flaherty's, and at An Chonair, where singing and set dancing are particularly encouraged. The Hillgrove Hotel has a set dancing evening every Thursday throughout the year, and Tigh Bhric in Riasc near Ballyferriter have a now well-established open session of music and song every Friday night throughout the year (with the exception of Good Friday, when the session is brought forward to Thursday!) when all comers are welcome to join in. Other venues with regular music sessions west of Dingle include Tigh Pheig, Tigh Mhurphy and Tigh an tSaorsaigh, all of Ballyferriter, Kruger's of Dun Chaoin, Tigh Bhegley and Tigh T.P. of Ballydavid and An Bothar Pub near Feothanach. Most gigs will welcome visiting musicians who wish to join them, but as any musician familiar with the traditional scene will appreciate, this should be "played by ear"! And evenings of excellent music and song are presented in St James' Church of Ireland on Wednesdays and Sundays.