Inis Oírr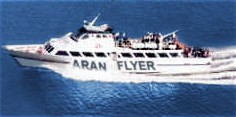 Warm May sunshine caressed the waters at Doolin Pier as we boarded our ferry, the Happy Hooker, to cross the short half hour journey to Inis Oirr island. As we walked to our guesthouses and hotels the air was filled with anticipation of yet another brilliant weekend on this idyllic island. The most easterly of the Aran Islands, Inis Oirr has for centuries been the jewel in the Aran crown. Here the everyday language of the locals is Irish and their songs and stories enshrine much of Ireland's folklore and culture. As dancers gathered for dinner and refreshments word spread that Skaskeen would be playing at 10pm in Tigh Ruairi's. As the crowds gathered some were doubtful that we would have space for dancing, but set dancers being the breed that they are soon had tables and chairs moved about to accommodate the first set of the night, the Connemara. The exuberant music urged our feet to dance on until 2am. Saturday morning at 10.30 Pat Murphy started his workshop with the Inis Oírr Set. This is a lovely easy going set, what a shame it is not danced more often. The next set of the morning was the Williamstown Set. Another easy going set, this set has been danced around the country for sometime. It's one of my favourites and Pat has the most wonderful way of explaining in detail each move. Lunchtime loomed and most dancers headed for the tea shop, Mairéad Sharry's traditional Aran cottage.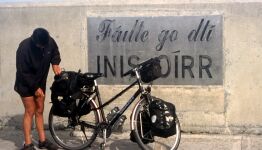 We sipped coffee and tea, ate scrumptious scones with island blackberry jam and thick yellow cream followed by rhubarb or apple tart. Well nourished, we sauntered back to the workshop. Pat started the afternoon with the Ballycroy set. This set comes from Ballycroy, Westport, County Mayo. Pat introduced the set by thanking Martin Murray for giving him this set and spoke of the nights dancing in Michael and Mary Corcoran's house in Renmore, Galway, when Martin taught him this set. On that August night in 1999 Martin travelled from Logduff in Ballycroy. Martin is Mary Corcoran's father. We were all honoured and privileged to learn that Martin, Mary and Michael were present to dance in the demonstration set. Surely this was a first on the island. This set has only three figures, jig, polka and reel. I would like to see this danced around the country. I spoke to Mary Corcoran and she said that her father was well pleased with the way Pat Murphy was teaching the set. The next set of the afternoon was the Loughgraney Half Set.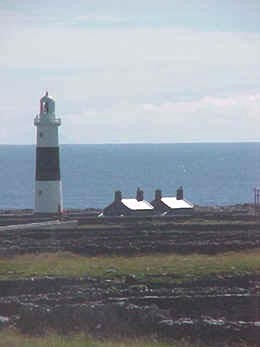 This set has six figures, a nice mix of reels, jig and hornpipe. This set has similarities with the Caledonian as each figure starts with a circle. An interesting set, it could be a good set for dancing classes with small numbers. Of course half sets are making a comeback at the moment. Pat decided we were all good students and finished for the evening to allow us to enjoy the evening sunshine and to prepare ourselves for the big ceili. Shaskeen started up in Ruairi's at 9.30 and most dancers began their warm up session with the Plain Set before they took to their heels for the Community Hall and the Four Courts Ceili Band. Most set dancers danced until 1am to the sweet music of this Clare band. Pat Murphy was on hand to call less familiar sets. We danced the Ballycroy Set and most dancers were surprised at how easy it was to dance even though most had never danced it before the workshop, surely a tribute to our tutor. Immediately the ceili finished we all headed back to Ruairi's for the rest of the night's dancing. The dancing concluded with the Plain Set followed by the South Galway Set, which is very popular in the Gort area of Galway. Some partied in to the small hours of the morning. Michelyn kept everyone entertained with her beautiful singing and her amusing songs, particularly her bra song. I certainly never knew a bra had so many different uses. Michelyn and her sister Niamh are two brilliant dancers. I had not met these ladies before - they are daughters of Michael and Dolores Murphy from Ballybrittas, our Ibiza waltz champions. I was privileged to have fantastic dance partners all weekend. Sometimes I thought I was back in Ibiza, with the beautiful weather, but our native language being spoken at such ease left me in no doubt. On Sunday morning as most ferry passengers gathered for the Doolin crossing Pat Murphy continued his workshop with the Ballycastle Set. This is a slightly demanding set for some people's concentration, another lovely Mayo set. I enjoyed learning this set in Pontoon earlier this year. I expect we will see most of these sets danced in or around County Mayo in the near future. The Happy Hooker docked and we all piled on to return to Doolin Pier. The weather had changed and we could see rain coming across from the mainland as we crossed. Another wonderful weekend of set dancing music and craic had come to an end. We all bade each other goodbye as we headed for our cars and the drive home.