Fleadh Cheoil
The first national festival of Irish traditional music was held in Mullingar, early in 1951. Comhaltas Ceoltóirí Éireann aimed to make this a great national festival and, at its inaugural meeting in September 1951, came up with the title of Fleadh Cheoil (a Festival of Music).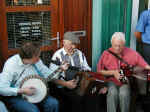 In the years that followed, the County Fleadh and the Provincial Fleadh found their places in the traditional music calendar. Since then, Fleadh Nua, Fleadh na Breataine (an All-Britain Fleadh Cheoil), regional Fleadhanna in Britain, and two major Fleadhanna in the USA have also become annual CCÉ events.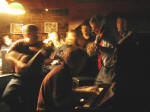 From its beginning, the goal of the Fleadh Cheoil was to establish standards in Irish traditional music through competition. The Fleadh developed as a mainly competitive event, but it also included many concerts, céilithe, parades, pageants, and street sessions. Right through the sixties and seventies, the Fleadh continued to grow and the number of would-be competitors grew so large that qualifying stages had to be arranged, at county and provincial level, to produce a manageable number of participants for the All-Ireland finals at Fleadh Cheoil na hÉireann. Today, nearly 50 years on, the Fleadhanna at each level provide a platform and a meeting place for the thousands of musicians (around 20,000 performers compete in Fleadhanna each year) who carry on the great tradition of playing and cherishing our music, songs, and dances. And when the competitions are over, all can join in impromptu sessions which sometimes last until the early hours.