Dancing in Portmagee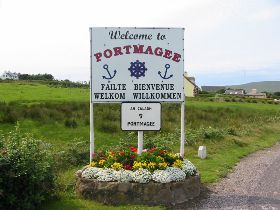 Portmagee is a small working fishing village in south Kerry overlooking Valentia harbour. The population is around 600 but every year on the May bank holiday weekend we experience a population explosion and it is hard to find a bed in the area-not that anybody spends much time in the bed! The reason is the Portmagee Dancer's Club set dance workshop. They come from the length and breadth of Ireland and beyond. Manchester, Birmingham and Coventry are well represented-not forgetting Dublin and Belfast, London and Paris. One couple has flown in from London for the last four years, just for the weekend. There are seasoned old campaigners who have travelled the round of workshops throughout the year, but there will be many who are absolute beginners. Everybody is welcomed and made to feel at home. This year there is a group of our own local children who have learned two of the local sets and are anxious to try their hand (or feet!) at a set from Clare or Galway. At the other end of the age range grandmothers and grandfathers will be there in plenty. Portmagee is a good venue for a workshop because sets have always been danced here and have never died out. The South Kerry Polka Set has been danced at house dances, weddings, crossroads and dinner dances without a break over the years. My friend Mary Kennedy of Ahanboy remembers two locations where there were concrete platforms at crossroads where the local people danced. At the present time sets are danced two or three times a week throughout the year and there has been a revival in house dances and kitchen dances. The set is very strong in the south Kerry area and keen set dancers can dance five nights in the week without travelling very far. The weekend is more than just a formal teaching workshop. There are sessions in the Bridge Bar, where singers and musicians as well as dancers can get together and enjoy the music. Here you will have a chance to see some of our older dancers who dance the local set in the lovely old graceful style of south Kerry. I have a friend Tom Kennedy who will dance a full set in collar, tie, gansey, jacket and cap without raising a sweat or breathing heavy! They have kept the tradition going and it's a rare gift they have handed down to us and our children. Where would the sets be without them? It is through some of these dancers that the Portmagee workshop had been able to revive three sets that would otherwise have been lost forever. In 1992 Muiris O'Brien, after doing thorough and painstaking research and probing the memories of several old people, revived the Valentia Right and Left Set, an elegant six figure set with lots of variety. Joe Lynch from Valentia Island was able to give Muiris all the details of the set he danced in his youth. I have often danced the Right and Left with Joe and a fine dancer he is. Muiris also revived the Portmagee Myserk, a lovely jig set, and he was telling me one night in the bar how persevered with the research to save this set, calling back several times to Joseph Falvey and working out the figures-at one stage using a walking cane as a partner! According to an old poem about a house dance the set must have been danced in the 1920s but had been lost. Patrick Joy in Killorglin was the only man who remembered the Caragh Lake Jig Set. A group of us went to Killorglin where Pat gave us all his experience and knowledge so Muiris was able to revive the set in 1993 at the Portmagee workshop. It is a great set danced to jigs, slide, reel and hornpipe. The workshop weekend always includes some great sessions-sometimes a set in the street beside the harbour overlooking Valentia Island. Goodbyes are said at last, addresses exchanged and the little village returns to normal. We sit down with a pot of tea and the talk begins-stories to tell of the weekend and plans for next year.


The sign in the window promised set dancing at nine, but the small Bridge Pub was half empty. People knew better that to be prompt; there was time for a walk in the rain and a bag of chips. An hour later the place was stuffed with hot bodies in damp clothes and half a dozen musicians sat on benches, on three sides of a square, under the window near the door. Every eye was drawn towards the burning heart of the room, a briquette fire in the big brick hearth. The walls, floor and ceiling were close and dark; and in this musical grotto liquid gifts of black and white were handed out by smoky firelight. Guinness posters and St Patrick's Day streamers still hung from the ceiling, months after their time. The season was over and no one was a tourist. A straight-backed woman in her forties wore a purple velvet shawl and a white blouse with a lace collar. She had come for the dancing. The piper flexed his fingers and began to explore a tune. His elbow squeezed air from the bag and his eyes met those of an accordion player, who nodded and found a counter refrain. A guitarist, thin with a young face, picked up the rhythm, dampening the strings and cutting across them on the off-beat. An older man, stocky and red skinned with a white moustache and an intent look, let the stick in his hand trip across the skin of bodhran. Conversations were left unfinished as people turned in their seats to face the session. There was no room to move, and barely enough to stand. Men, women and children all watched and bobbed their heads in time, tapping a foot or drumming a glass with their fingers. Other musicians climbed aboard the tune as it passed: a second guitarist who had watched his friend's fingers on the fretboard; another piper; another bodhran. A signal passed through the crowd and eight dancers were on their feet. Part of the floor cleared. Each held a partner and they were off, turning tight patterns within small circles, bodies mad and free yet never colliding or stumbling into a space where they should not have been. They moved as an eight, into the circle and out, stamping their heels to accentuate the beat. It was ancient but vital, an impressive movement performed here and wherever there were Kerry people. The public, collective courtship could have been taking place on the hill of the Great Blasket, in the hull of a transatlantic steamer, or at a social club in Massachusetts. They might have been dancing to a wind-up gramophone, a one-string fiddle, or an amplified band. The dancers were a spectacle, but in another time the whole room might have been spinning and reeling.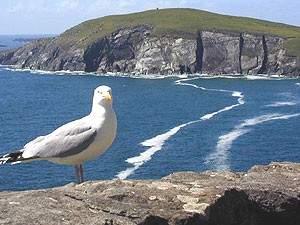 On our arrival the sun shone as if to cheer us all, and the tone of the weekend was set with a lively session in the Bridge Bar on the Friday evening. With musicians Paddy Casey and Daniel Lynch playing button accordions, Seamus Rahilly on keyboard, Michael Tubridy on flute and Liam Owens on tin whistle, the set dancers took to the floor. My husband and I, being totally uninitiated in the art of Irish set dance, were completely overawed by the lively and seemingly spontaneous dance patterns and we couldn't stop our feet tapping and hands clapping at the end of each figure. So it was with some trepidation that we approached our first set dance workshop. Gabriel and Helen, who by our standards are set dance 'veterans', having attended for the previous four years, assured us that we would soon 'get the hang of it'. We arrived at the Community Centre and were warmly welcomed by Betty McCoy who spoke movingly about Connie Ryan and his contribution to Irish set dancing. We then all sat back to enjoy watching the demonstration set, so much so that when the time came for the general dancing to start we protested, 'No, no, we'd much rather watch!' This however was not at all acceptable and we were firmly led onto the floor. Much to our surprise, within a few minutes under the watchful eye of Jim Barry, the workshop leader, we found ourselves being helped through our first set, the Aran set. We provided much laughter as we stumbled through the steps and I think Jim saw us as quite a challenge! However, we soon gained confidence and reckoned that if we ended up in the right place by the end of the music we'd done pretty well! Much appreciation goes to the 'saintly' Jim who managed with Betty's help to keep the whole room dancing and still find time to help us out on the more taxing steps. After a much needed lunchtime break at the Bridge Bar we tackled the afternoon session with renewed vigour and completed the Sliabh gCua, Ballyvourney Jig and Ballycommon - but we had so much fun and felt a shared sense of achievement with our new friends. After a delicious meal back at The Moorings there was a whole evening of entertainment to come in the Bridge Bar. In one part of it, we, as the singing group Harmonix, provided a selection of hits from the 60s to the 90s which seemed to go down well as a prelude to the traditional music which was to follow. Paddy, Seamus and company were in top form and the dancers swung into action. Many people contributed to the occasion by performing songs and playing traditional instruments. Celine Tubridy and Chris Gleeson delighted us all with their solo dances accompanied by Michael Tubridy. Another treat was to listen to Maire Begley, fresh from her show on Kerry Radio, singing and playing the piano accordion so beautifully then providing backing to other performers. There was a great atmosphere and the revels lasted into the wee small hours - what a day!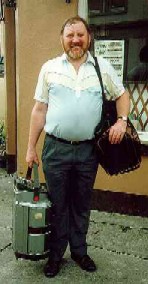 The Sunday morning anniversary Mass in memory of Connie Ryan was a very moving occasion. There were special readings from Beryl Stracey and a brave Betty McCoy who read a poem written by one of Connie's many admirers. Maire Begley's singing was hauntingly beautiful and the final 'Lord of the Dance' was delightfully appropriate. The lunchtime session was very relaxed and spontaneous. Maire again transfixed us all with her traditional songs and I lost count of the number of people who joined in to play instruments - and again the dancers danced. This was a wonderful session which we could have stayed to enjoy all afternoon, but we had an appointment - the ceili! This was our opportunity to put into practice all we had learned at the workshop, or so we thought. Somehow all the sets seemed to merge into one, but thanks to our brilliant set partners, Chris and Eddie 'the Hip' Gleeson and with Jim Barry calling we had a great time and managed every figure. Betty McCoy was again on hand to help. The Riordans band played for us and kept things moving at a cracking pace. We ended the ceili feeling exhausted and on saying farewell to those who were leaving then we all promised to come back next year. The final session in the Bridge Bar was a wonderful evening, a potpourri of dancing, singing and entertainment - great craic! The bar was packed with folk of all aged, from 9 to 90 all sharing the enjoyment of music and dancing. That memory will stay with us all, I'm sure. Many thanks to Beryl, Julian, Gerard, Pat and their team for all their hard work. The whole weekend was a great success and it is a privilege for us to have met them all, and make no mistake, we will return. Plans are already being made for next year and we understand that some enthusiasts have already booked their rooms in readiness! Now I wonder if I can remember the Aran set ... ?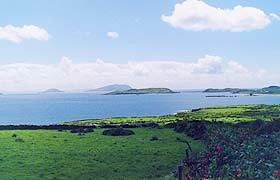 As we travelled to South Kerry on Friday April 28th for the annual May Bank Holiday Set Dancing Workshop, the breathtaking view from the road over St Finan's Bay on the way to Portmagee was an indication of the pure enjoyment that would be ours for the weekend. On arrival we received the usual warm welcome from Ger and Pat Kennedy, proprietors of the Bridge Bar and the Moorings Restaurant. Straight to the bar for some refreshments - a little glass of wine and the 'freshest Mussels you have ever tasted' and the weekend in Portmagee was off to a great start. That evening, as people continued to arrive, the session started in the Bridge Bar to live music from local musicians Seamus and Paddy with sets being danced by locals and visitors mingling together. It's great to see the locals dancing their own sets, in this case it's the South Kerry and sometimes the Valentia Right and Left. With the quality of the session, no one was in a hurry to go to bed. Saturday morning Betty McCoy and Jim Barry got the workshop going with the Williamstown Set, a great choice to start with - the last figure is always great fun. Then they taught the Inis Oírr and in the afternoon we did the Tournafulla and the Borlin Jenny. I was first introduced to Portmagee and all its magic by Connie Ryan. It is just great to have the irrepressible Betty continuing Connie's workshop tradition of the right blend of fun, dancing and learning (in that order). The banter between Jim and Betty was great fun and they got a well earned warm ovation from the very appreciative attendees. It was justly deserved as there was a terrific atmosphere right throughout the day. Saturday night after a really wonderful gourmet meal prepared by Pat and her staff in the Moorings, all adjourned to the Bridge Bar for a feast of music song and dance, first with a music session and then more music and sets from Seamus and Paddy. At 11 o'clock all hands made the short walk to the local hall for a free two hour ceílí with music by Jerry McCarthy and the Muskerry Ceílí Band. Sunday, the craic started around 12 am with music, song and dance from Michael Tubridy, Ned O'Shea and friends which continued till the ceílí started in the hall around 3 pm, with music again by The Muskerry Ceílí Band. The evening meal in the Moorings once again was a masterpiece, following which music in a more modern idiom was provided in the Bridge Bar by Harmonix, (Gabriel, Helen, Chris and Alan from England) who like ourselves have been coming to Portmagee for several years now. And after that - yes, you guessed it - the session continued with more music and sets till, ah, late! The weekend is a great success for so many reasons - meeting friends old and new, almost continuous music and dancing, superb food and accommodation at very reasonable prices, the location is a delightful fishing village in the midst of some of the loveliest scenery in the world and not least the trojan organisational work done by Ger and Pat Kennedy and Beryl and Julian Stracey. Well done! Next year is the tenth anniversary, and in all honesty I just can't wait.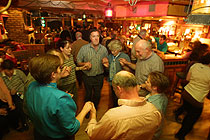 I came into the bar looking forward to a night's set dancing. Somebody told me, "Joe Lynch the dancer is dead!" Joe was 87 years old. He died peacefully in bed in his own home on Valentia Island on Sunday 18th March. Joe was very much loved and respected in Valentia and Portmagee but he meant something very special to all who were interested in music and dancing. Joe was born in Tennis, Valentia Island, Kerry, in 1914. Like all the old dancers he learned the set in the home. It was John Shea who taught him the Valentia Right and Left in the house of Denis O'Neill. The Right and Left would always be danced in the hall on the island every Sunday night and Joe said it was last danced during the war years then for some reason it faded out. In 1989 Joe gave the set to Larry Lynch who published it in his wonderful book, Set Dances of Ireland. Larry would bring a crowd of dancers to the area most years and he would always meet up with Joe. In 1992 Muiris O'Brien, with Joe's help, revived the set at the Portmagee dance workshop. Since then it is danced regularly in south Kerry and beyond. A great treat for me was to dance across from Joe. And he was very particular about how we danced his set. I can see Joe in suit, gansey and cap, cool as a breeze, a long finger pointing the way in the cross over! It was a cold March day when we assembled in Chapeltown Church to say goodbye to Joe. Bernie Moran played lovely slow airs on the accordion and struck up a Kerry polka as we left the church. We stood outside talking of Joe. How he had been active and interested up until recently. Someone had seen him at a football match and I remembered him calling us over to the car at the Valentia Regatta. Annie Lynch said only recently he was talking about the style of the old dancers. Joe, you gave us the Valentia Right and Left and much much more. You will live on as long as we dance sets in South Kerry.